OREGON COMMERCIAL SEXUAL SOLICITATION, PROSTITUTION, AND PATRONIZING LAWS

FOR BUYERS: ORS 167.008 Commercial Sexual Solicitation (formerly known as Patronizing a Prostitute). (1) A person commits the crime of commercial sexual solicitation if the person pays, or offers or agrees to pay, a fee to engage in sexual conduct or sexual contact.

(2) Commerical sexual solicitation is a Class A misdemeanor.

[2011 c.151 §3; 2013 c.720 §2; 2015 c.98 §1].
POSSIBLE SENTENCE


IF NOT ELIGIBLE FOR FIRST OFFENDER PROSTITUTION PROGRAM (FOPP)

Probation
Usually
Jail
Sometimes
A. As used in this Section, "prostitution" means that unlawful conduct defined in Section 14.A40.040 of this Code. As used in this Section, "prostitution procurement activity" means any conduct by any person that constitutes a substantial step in furtherance of an act of prostitution. Such activity includes, but is not limited to, lingering in or near any street or public place, repeatedly circling an area in a motor vehicle, or repeatedly beckoning to, contacting, or attempting to stop pedestrians or motor vehicle operators.
B. It is unlawful for any person to engage in any prostitution procurement activity with an intent to induce, entice, solicit, procure, locate, or contact another person to commit an act of prostitution.
POSSIBLE SENTENCE
Probation
Usually
Jail
Sometimes
David N Lesh
Oregon Commercial Sexual Solicitation Lawyer
No cost initial consultation

---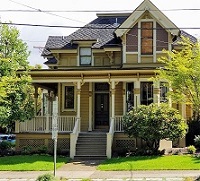 503.546.2928
434 NW 19th Avenue
Portland, OR 97209

TIP: Prostitution and commercial sexual solicitation are expungeable offenses if you're otherwise eligible.

Police departments are increasingly doing sting operations on backpage.com to catch "Johns."
---

David Lesh Mini Biography
Oregon attorney since 1990;
Former Multnomah County prosecutor;
Former Portland Police Bureau lawyer;
Sought after criminal defense attorney.
David Lesh Attorney Reviews
Rated 4.9 / 5 based on 14 reviews.